By Carly Butler
It was while moving my grandfather into a retirement home that we stumbled upon 110 love letters written from my grandmother to my grandfather just after WWII. They were dated January to July of 1946, and they were tucked away in the back of a cupboard next to a slew of VHS tapes of recorded British sitcoms. My Grama had been gone for over 10 years at this point. She died when I was 13.
When we first found the letters, they were simply a precious family memento — an heirloom that we'd keep in a drawer the few years that followed their discovery. It wasn't until 2012 that I found myself in front of the RMS Queen Mary docked in Long Beach, California, the ship that my Grama sailed on in 1946 towards her new life, that an idea started to form. I would move to England from January to July of 2013 to retrace my Grama's steps. I would knock on the door of the house she wrote the letters from, I would visit the places she visited and I would write home to my love, just as she did.
The journey of retracing my Grama's letters 67 years later changed my life. It has led me to this exact moment, drafting up my first entry for this column on Handwritten. If someone were to have told me that a bundle of love letters would change the course of my life, bring incredible people into my path, be the foundation of a love that I have with the perfect man for me, and create a connection to my Grama, someone who left this world almost 20 years ago, I'm not sure I would have believed it.
What I've come to realize is that my gratitude for having these letters is far beyond the grand gesture or epic journey. The most meaningful part of having found my Grama's letters is that they give me a window into a life-story of an incredible woman who walked before me. Her handwritten words allow me to get to know her as a 26 year-old women embarking on a major life decision, leaving behind everything she knew, putting her faith in love and living life the way it's meant to be lived. Her words bring me strength when I feel weak, courage when I feel scared, belief when I am in doubt, and chutzpah to live the life of my dream, seventy years later.
Her first letter, shared below for the first time, is dated January 17, 1946, just over seventy years ago today.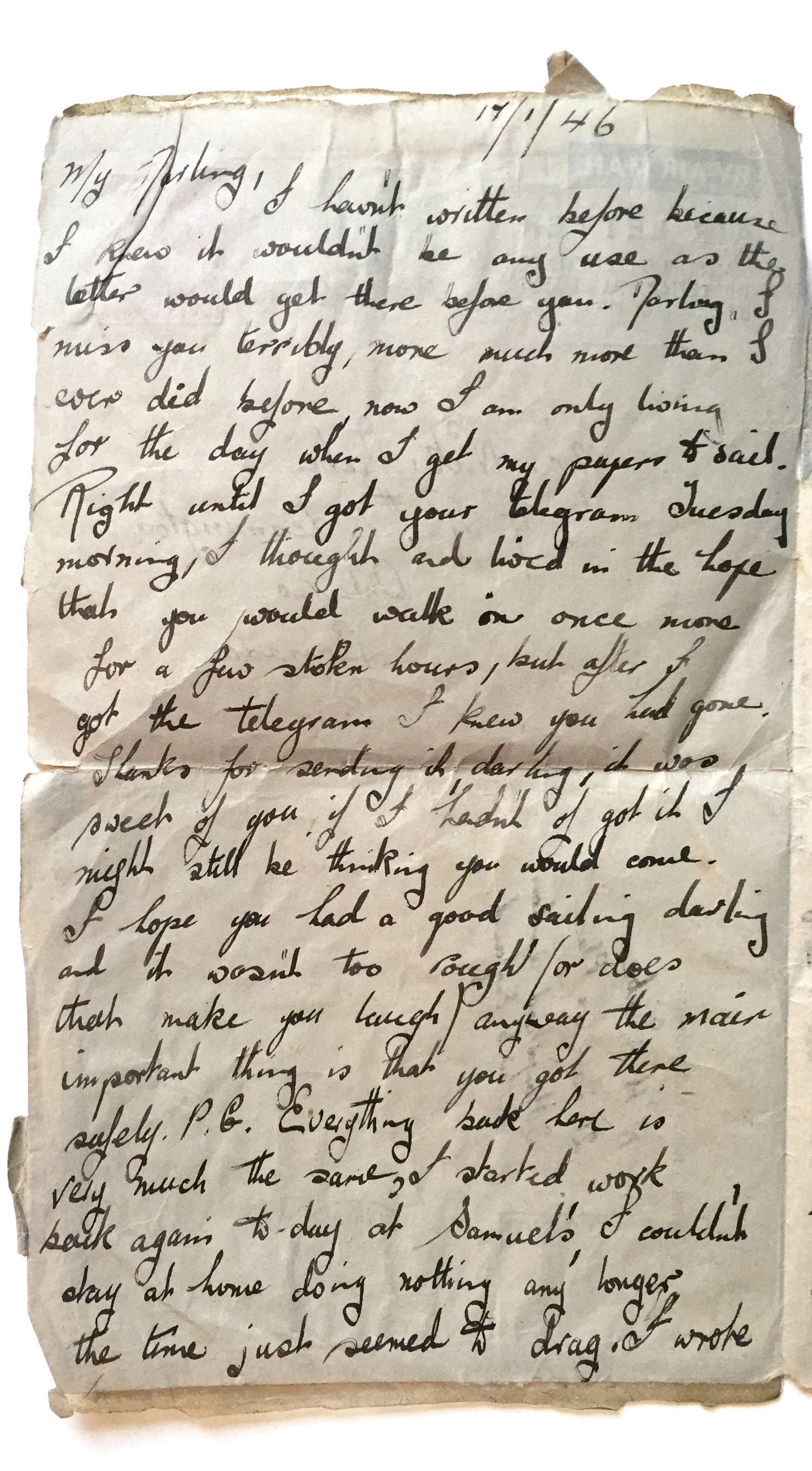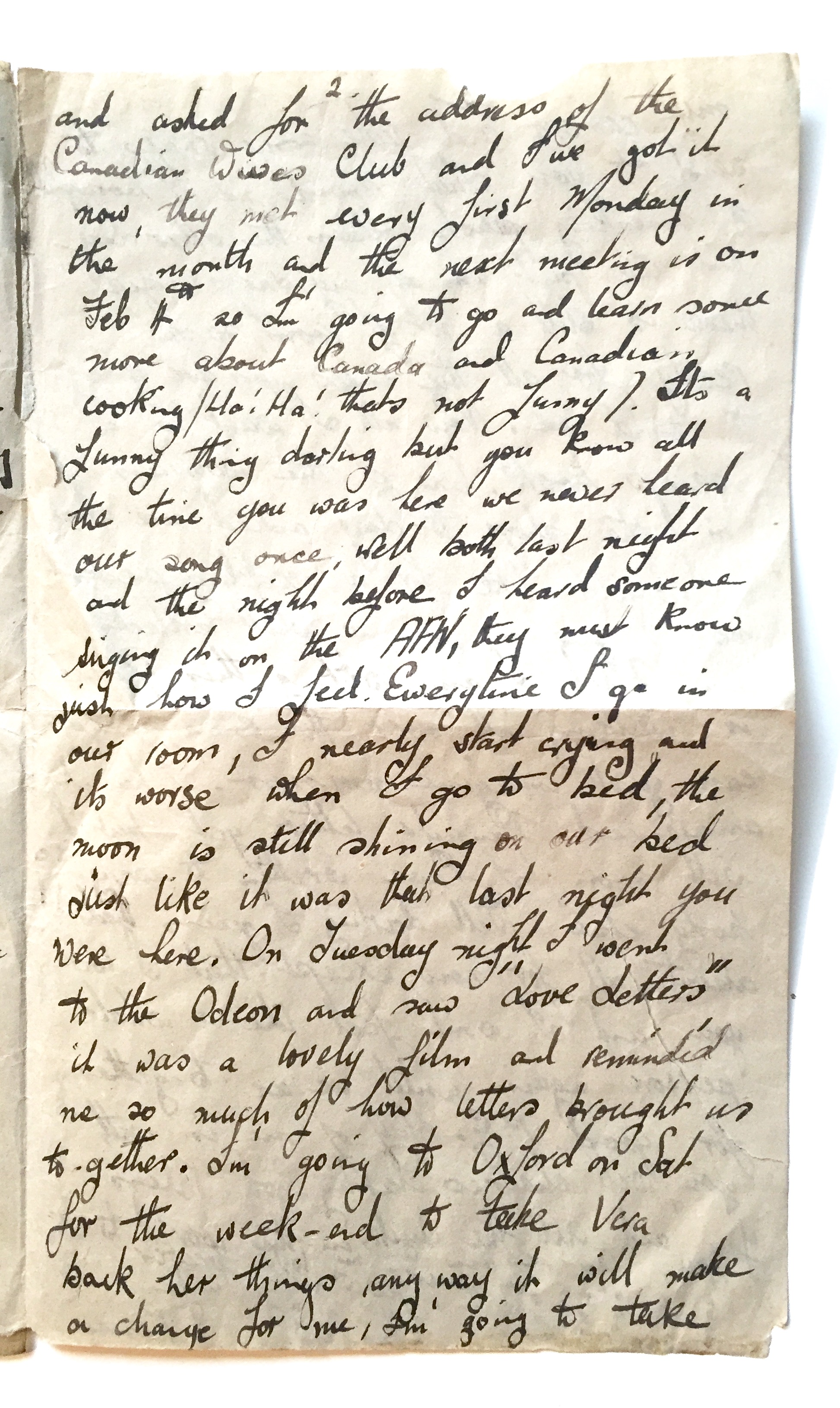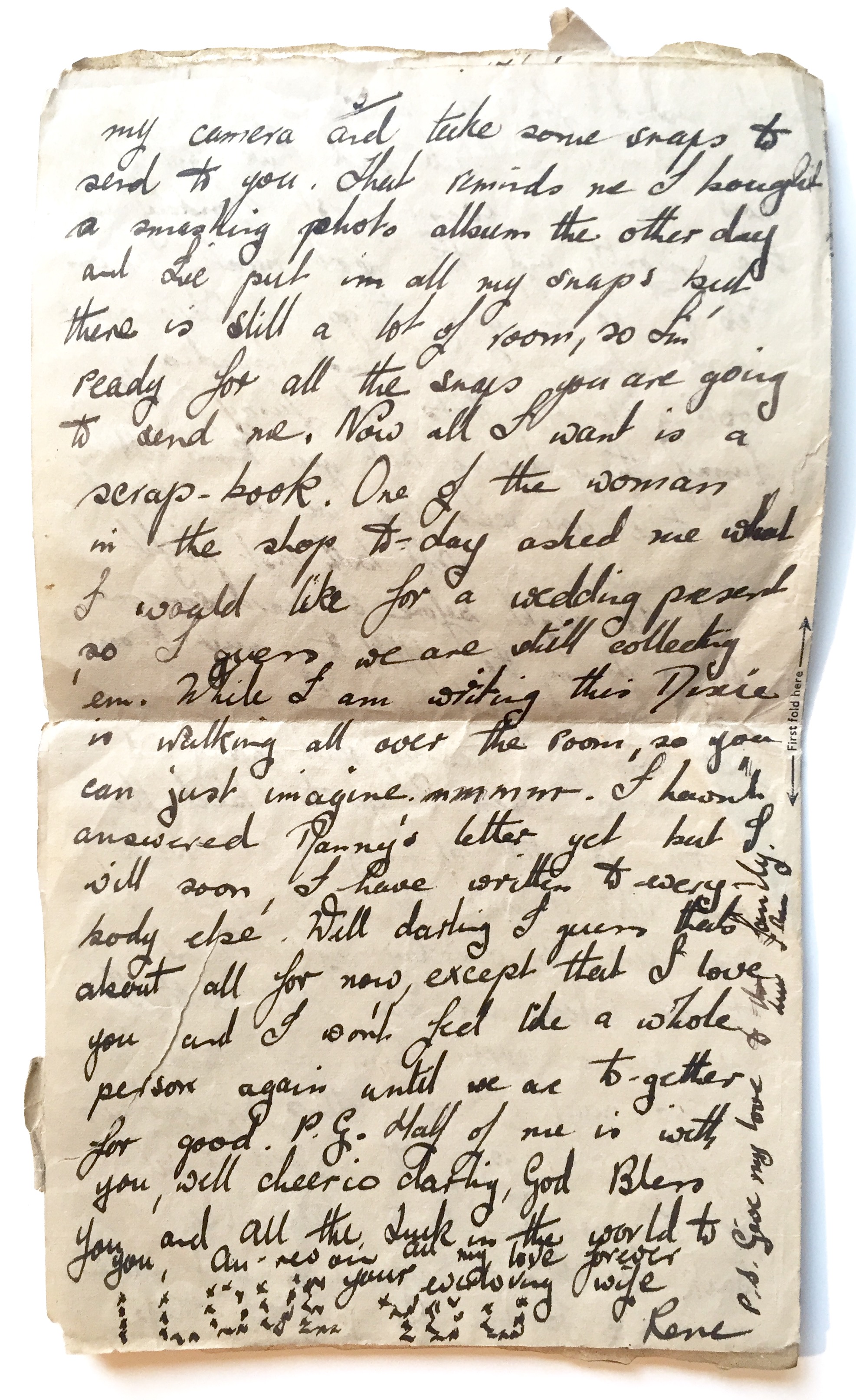 TRANSCRIPTION:
January 17, 1946
My Darling,
I haven't written before because I knew it wouldn't be any use as the letter would get there before you. Darling, I miss you terribly, much more than I ever did before, now I am only living for the day when I get my papers to sail. Right until I got your telegram Tuesday morning, I thought and lived in the hope that you would walk in once more for a few stolen hours, but after I got the telegram I knew you had gone. Thanks for sending it, darling, it was sweet of you, if I hadn't of got it I might still be thinking you would come.
I hope you had a good sailing darling and it wasn't too rough (or does that make you laugh) anyway the main important thing is that you got there safely. P.G. Everything back here is very much the same, I started work back again today at Samuel's, I couldn't stay at home doing nothing any longer the time just seem to drag.
I wrote and asked for the address of the Canadian wives club and I've got it now, they meet every first Monday in the month and the next meeting is on Feb 4th so I'm going to go and learn some more about Canada and Canadian cooking (Ha! Ha! That's not funny).
It's a funny thing darling but you know all the time you were here we never heard our song once, well both last night and the night before I heard someone singing it on the AFN, they must know just how I feel. Every time I go in our room, I nearly start crying and it's worse when I go to bed, the moon is still shining on our bed just like it was that last night you were here.
On Tuesday night I went to the Odeon and saw "Love Letters" it was a lovely film and reminded me so much of how letters brought us together. I'm going to Oxford on Saturday for the weekend to take Vera back her things, anyway it will make a change for me, I'm going to take my camera and take some snaps to send to you. That reminds me I bought a smashing photo album the other day and I've put in all my snaps but there is still a lot of room, so I'm ready for all the snaps you are going to send me. Now all I want is a scrapbook.
One of the women in the shop today asked me what I would like for a wedding present so I guess we are still collecting 'em. While I am writing this Dixie is walking all over the room, so you can just imagine. mmmm. I have an answer Danny's letter yet but I will soon, I have written to everybody else. Well darling I guess that's about all for now except that I love you and I won't feel like a whole person again until we are together for good. P.G.
Half of me is with you, well cheerio darling, God Bless You and All the Luck in the world to you, Au revoir. All my love forever your ever loving wife,
Rene
I love you – in x's
P.S. Give my love to the family. Love Rene.